University Hospital
1215 Lee St.
Charlottesville, VA 22908
Location Hours: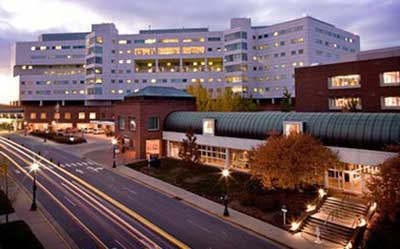 Parking: Free with validation, using your green parking ticket when you register at your appointment. Use the Lee Street and 11th Street parking garages.
Shuttle service: Runs every 30 minutes, Monday - Friday, 8 a.m. - 6 p.m. Find shuttle stop locations.
Overview
University Hospital offers state-of-the-art inpatient and outpatient care facilities, laboratories and clinics.
Labor & Delivery
Having a Baby?
Labor & Delivery and Postpartum rooms are located on the 8th Floor
Lee Street parking garage is directly across the street from the Main Hospital and Emergency Department
After 9 p.m., enter through the Emergency Department
No preregistration is necessary; if you're under the care of a UVA OB-GYN or midwife, you just check in at the 8th floor registration room when you arrive
If you have any questions, your call goes directly to a Labor & Delivery nurse: 434.924.2002