Aesthetic Center
West Complex
Fourth Floor
1300 Jefferson Park Ave.
Charlottesville, VA 22908
Location Hours:
Monday - Friday | 8:00 a.m. - 4:30 p.m.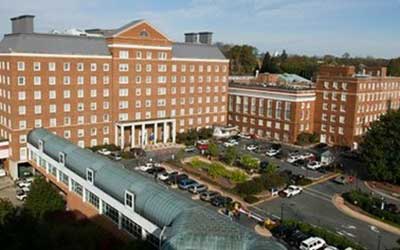 Note: Input West Complex for Google Maps and some GPS devices.
Parking: Free with validation, using your green parking ticket when you register at your appointment. Use the Lee Street and 11th Street parking garages.
Shuttle service: Runs every 30 minutes, Monday-Friday, 8 a.m. - 6 p.m. Find shuttle stop locations.
Drop-off locations: Patients can be dropped off in front of the West Complex off Jefferson Park Avenue.
Overview
The treatments available at our Aesthetic Center include:
Facelifts
Ear and nose reshapings
Chemical peels
Breast augmentation/reduction
Hair restoration
Botox injections
Hair removal
Spider vein removal
Laser skin resurfacing (to minimize fine facial lines and treat facial scars and uneven pigmentation)
Surgical procedures:

Eyelid surgery
Brow lifts
Facial implants
Microdermabrasion
Laser vein removal
Abdominal surgery (tummy tucks)
Get a Facial
To help you look and feel your best, we offer a three-step facial to smooth away fine lines, improve skin tone and elasticity and help eliminate dryness, skin discoloration and blemishes.
Following an initial evaluation by one of our plastic surgeons, you'll receive a deep cleansing facial or micropeel to open your pores. This is followed by a steam treatment and the cosmetic facial.
Learn more about our expert plastic surgery services.