Advanced Cardiac Valve Center
Location Hours:
Monday - Friday | 8:00 a.m. - 4:30 p.m.
Cancellations require 24-hour notice.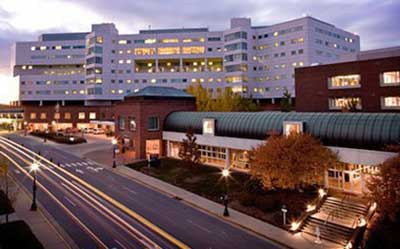 We are located in the Heart and Vascular Clinic on the second floor of University Hospital.
Overview
The Advanced Cardiac Valve Center at UVA's Heart and Vascular Center is a national leader in minimally invasive treatments for heart valve conditions.
We offer comprehensive care for a range of heart valve issues, including:
Transcathether valve replacement (TAVR)
Percutaneous valve replacement
Mitral valve treatment and repair
Aortic valve treatment and repair
Pulmonary valve treatment and repair
Triscuspid valve disease
Open heart surgery
Our care team is known for the development and implementation of a number of new and effective therapies for diseased cardiac valves.
Learn more about our cardiac valve services.
Patient Information
Making an Appointment
We usually see patients on a referral basis and will contact you after we receive a referral from your doctor.
Checking In
For surgical visits, you'll check in at the Heart and Vascular Center on the second floor of University Hospital.
For routine cardiology appointments, you'll check in at the Primary Care Center, on the first floor.
The Evaluation Process
What You Need to Bring to Your First Appointment
A list of all your prescription and over-the-counter medications and doses
Your past medical and surgical history, including procedures and tests performed within the last 24 months
A support person to help you navigate the appointment
Any questions you might have for us
We will review your medical history. We may schedule you for additional testing, which will help us make decisions about next steps in the evaluation process.
Tests to Expect
You may undergo noninvasive, non-painful tests, including:
Transthoracic echocardiogram (TTE)
Pulmonary function test (PFT)
Cat scan (CT) of the chest, abdomen and pelvis
You may also need more invasive and possibly uncomfortable tests, such as:
Transesophageal echocardiogram (TEE)
Cardiac catheterization
You should clear your schedule for the entire day while receiving tests. Depending on your diagnosis, tests may take several days or weeks. Occasionally, you may need to spend the night.
Determining Treatment
We will discuss your treatment options and work with you to determine a treatment plan during one of your visits.
Lab and Test Results
You can view your lab and test results online, using MyChart. You can also call us for results.