Crossroads Family Medicine
Crossroads Corner Shops
4916 Plank Rd.
North Garden, VA 22959
Location Hours:
Monday, Wednesday, Friday | 8:30 a.m. - 5:00 p.m.
Tuesday, Thursday | 8:00 a.m. - 7:00 p.m.
Cancellations require 24-hour notice.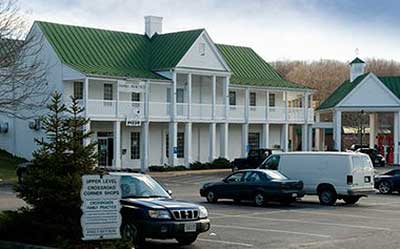 Parking: Free for patients.
Overview
Crossroads Family Medicine offers primary care for patients of all ages. Our doctors have advanced training in women's health, pediatrics and geriatrics and strive to keep you healthy in all aspects of your life.
Learn more about our family medicine services.
Services Offered
General Healthcare
Checkups, exams and physicals
Care of illnesses and minor injuries
Immunizations
Care of chronic health problems
Medication management
Diabetes and heart disease management
Healthy lifestyle counseling
Pre-operative evaluation
Minor emergencies
Newborn care
CDL exams
Children and Teens
Well-child checkups
School/behavioral issues
Assessment of growth and development
ADHD
School, sports and camp physicals
Women's Health
Gynecological services
Obstetrical care
Prenatal and postpartum care
Pregnancy testing and counseling
Tests and Procedures
Lab tests
EKGs
Minor surgical procedures
Hearing and vision screening
Complex medical management