Cardiovascular Genetics Clinic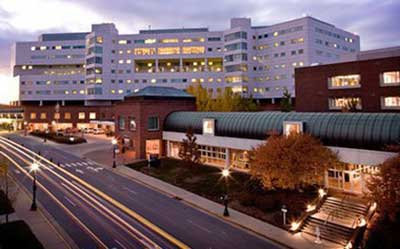 Parking: Free with validation, using your green parking ticket when you register at your appointment. Use the Lee Street Parking Garage directly across the street from University Hospital and Emergency Department.
Shuttle service: Runs every 30 minutes, Monday-Friday, 8 a.m. - 6 p.m. Find shuttle stop locations.
Floorplan (PDF)
Overview
The Cardiovascular Genetics Clinic can help you and your family better understand the many aspects of having, or being at risk for, a hereditary cardiovascular condition. We can test family members for inherited mutated genes that can contribute to a host of heart conditions.
The UVA cardiovascular genetics team can help answer these questions:
Can genetic testing help with my medical care?
How likely am I to pass this condition on to my children?
What is my risk of disease?
Is genetic testing right for me or other members of my family?
Watch a video to learn more about the cardiovascular genetics clinic.
We see families with any known or suspected hereditary heart condition. The most common are:
Arrhythmia syndromes:

Long QT syndrome
Catecholaminergic polymorphic ventricular tachycardia (CPVT)
Brugada syndrome

Cardiomyopathies:

Hypertrophic cardiomyopathy (HCM)
Familial dilated cardiomyopathy (familial DCM)
Arrhythmogenic right ventricular dysplasia/cardiomyopathy (ARVD/C)?

Aortic disease:

Familial thoracic aortic aneurysm and dissection (familial TAAD)
Marfan syndrome

Congenital heart disease
You may also benefit if you have a:
Family history of a hereditary heart condition
Relative who experienced sudden unexplained cardiac death under age 50
Learn more about the Heart and Vascular Center at UVA.
What To Expect
Your First Visit: We'll first draw a detailed family tree to learn who in your family has a heart condition and who may be at risk for a heart condition. If needed, we'll discuss genetic testing options, benefits and limitations. Genetic testing requires a small blood sample, which many insurance plans cover.
Follow-up Visit: We'll help you understand your genetic test results and identify other family members who may benefit from genetic testing or heart screening.
Living with a hereditary disease can be emotionally challenging. We can help you with many of the personal aspects of having an inherited condition, such as sharing information with relatives and assisting in decisions about reproductive options.
Helpful Links