Cardiac Catheterization Lab
Location Hours:
Monday - Friday | 8:00 a.m. - 5:00 p.m.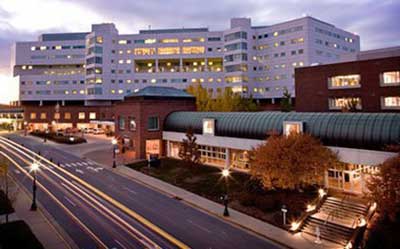 Parking: Free with validation, using your green parking ticket when you register at your appointment. Use the Lee Street Parking Garage directly across the street from University Hospital and Emergency Department.
Shuttle service: Runs every 30 minutes, Monday-Friday, 8 a.m.-6 p.m. Find shuttle stop locations.
Floorplan (PDF)
Overview
The Cardiac Catheterization Lab helps diagnose and treat circulatory and structural disorders in your heart.
Using the latest in catheter-based technology, our doctors, nurses and technicians diagnose heart issues including:
Coronary artery disease
Structural heart disease
Congenital heart disease
In many cases our cardiologists will treat a heart circulation problem with an on-the-spot angioplasty, allowing you to avoid returning for a second procedure.
We see patients of all ages, including newborns.
Learn more about our Heart & Vascular Center.